During Wonderella's tenure as publisher of the magazine Phooka, the Journal of the Overland Mallet Club, a group of sporting types met each Sunday morning for croquet, drinks, and general tomfoolery. This group petitioned for—and was granted—chapterhood in the O.M.C.

At the peak of O.M.C. Berkeley's antics, publisher Clint Marsh printed two issues of the shortlived, ill-fated newsletter Victorious Egret. We reproduce these newsletters in their entirety here, online, for all to enjoy.
Victorious Egret was printed letter size, or 8.5 x 11 inches.
Click on the images below for a closer look.
Please note that the information presented in Victorious Egret is dreadfully out of date.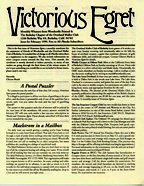 Victorious Egret No.1, for February 1999: In addition to listing croquet events from around the Bay Area, the inaugural issue of VE posed a postal puzzler, offered advice on reducing junk mail, presented a delicious garbanzo bean salad, and reprinted the rules for Lewis Carroll's boardgame Lanrick.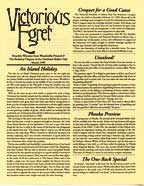 Victorious Egret No.2, for March 1999: Before its mysterious disappearance, VE recounted the goings-on at the Wonderella Tiki Party, previewed the "lost" issue of Phooka, solved the postal puzzler, and gave even more information about Bay Area croquet. What larks!