Snow-Bound, by the American poet John Greenleaf Whittier, transports the reader to a blustery and bucolic winter scene in 19th-century New England. Throughout the poem, Whittier fondly recalls life on his family's farmstead and the many duties and joys that came each winter. The poem's images of snowy fields, cozy hearths, and the promise of spring will resound in the hearts of readers always.
The Wonderella edition of Snow-Bound is designed after the Ticknor and Fields edition of 1868. The cheerful red-and-white cover was letterpress printed at the San Francisco Center for the Book by Jennie Hinchcliff and Alyscia Perez-Reyes.
Snow-Bound measures 7.5 x 6.5 inches, with 80 pages and 43 illustrations.
Click on the images below for a closer look at the cover and a few interior pages.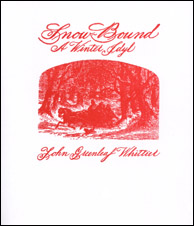 "Snow-Bound, A Winter Idyl." A holiday poem by John Greenleaf Whittier.

** This pamphlet is sold out **