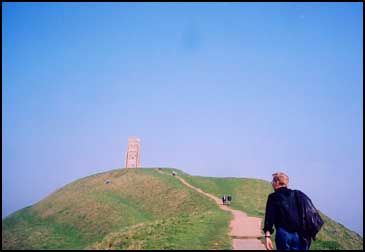 Illustration No.20
"The Trek to the Tor"
Glastonbury Tor lies outside of town, and from the top you can see miles and miles of farmland and villages. A solitary, abandoned church tower remains atop the Tor now, but at one time it was part of a church that, like the Abbey, fell victim to Henry VIII.

The Tor itself has been home to Gwyn ap Nudd, the fairy Lord of the Underworld. It is also the starting point for the Overland Mallet Club's annual Glastonbury Trounce.

We sat atop the hill for awhile, taking in the view and feeling the exhilirating wind and refreshing sunshine on our faces, before beginning the long walk down. Next stop, Avebury.