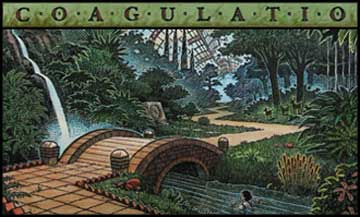 This section of the Wonderella website is adapted from the art and text in the ninth issue of the Guide to Lost Wonder. It is a tour which leads us through the Museum of Lost Wonder's third exhibit hall—the garden of Coagulatio. As is true of all the Museum's exhibits, Coagulatio is not only a place but also a state of mind, as well as a step in our internal, alchemical evolution.
Coagulatio is a living oasis within the Museum of Lost Wonder, home to all manner of representatives from the vegetable, animal, and mineral kingdoms. It is our botanical garden, our zoological park, full of trees and all the soil and stone that supports it. Coagulatio is a place to explore the beauty of nature, be it out in the fresh air and sunshine or beneath the ground in mysterious tunnels and caverns.
Here are all the wonderful flying and furry animals you love, and so are all those slimy, scaly, crawly critters you might not. They're all a part of the grand cycle of life, just like each one of us. Coagulatio challenges us to wonder about how we fit into the natural world, sharing the ground, the air, the water, and the sunshine with all the other creatures on the surface.
But not everything is sunny in Coagulatio. Beneath the surface of our garden of delights is an underground world of caverns and tunnels. Descending into the caves, we explore those places the sunshine never reaches. Scientists have found amazing creatures who've adapted to life in the dark—maybe we'll evolve too as we stumble blindly through this mysterious underground world.
Coagulatio Defined
Coagulation. To coagulate, condense, or fixate. To gain solidity from an amorphous state. To curdle or bring together. To turn a liquid to a soft, semisolid mass. In this stage of refinement, the liquefied ashes from the Solutio process are solidified.
Explore "Coagulatio"
Coagulatio Home
Psychology: Making "Sense"
Science: Like a Fish Out of Water
Myth: In the Garden
Art: Cor Verum Terra
Thought: A Walk in the Park